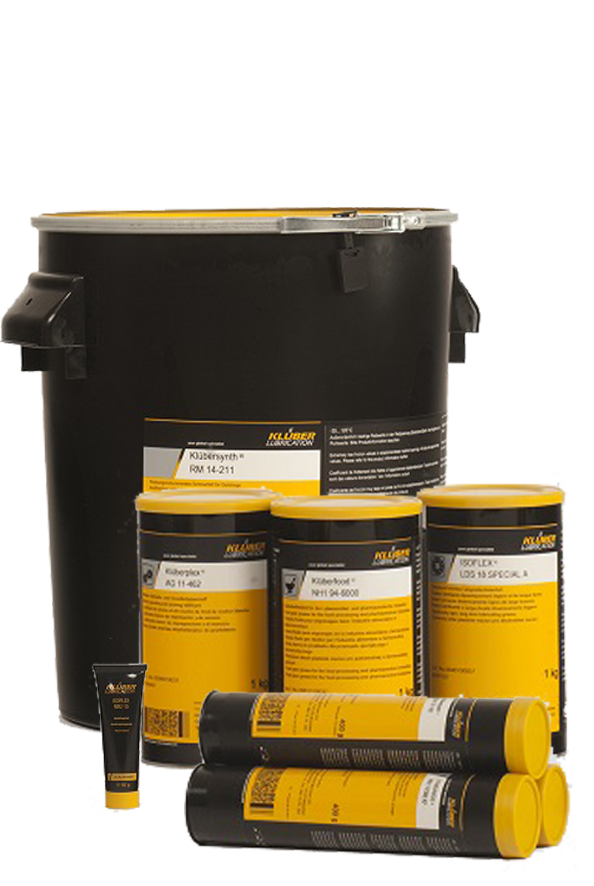 Description
Klüber Noxlub BN 2420 consists of a special perfluorinated polyether oil and a sodium complex soap thickener. This powerful well-balanced product features excellent thermal stability, efficient protection against wear and good anticorrosive properties for loaded roller bearings. Klüber Noxlub BN 2420 softens when worked, so that the rolling elements are evenly coated. It is easy to clean the bearings from waste grease by means of relubrication.
Application
Klüber Noxlub BN 2420 is particularly suitable for long-term high-temperature lubrication of well-sealed spherical or cylindrical roller bearings in pressure and corrugation rollers of cardboard corrugating machines. Even at bearing temperatures between 180 and 200°C, Klüber Noxlub BN 2420 offers extended relubrication cycles and economical maintenance. Klüber Noxlub BN 2420 has over many years been successfully used for everyday operation in equipment made by various manufacturers. Behaviour towards elastomers and plastics Greases based on fluorinated polyether oils are neutral to most elastomer and plastic materials (possible exception: perfluorinated rubber). Nevertheless we recommend testing compatibility with the material to be used, especially prior to series application.
Application notes
For optimum lubrication results, we recommend cleaning the friction point with white spirit and then with Klüberalfa XZ 3-1 prior to initial lubrication. The friction point has to be bright (i.e. free of oil, grease and perspiration) and free of contamination particles. To optimise service life, please contact our technical sales staff.
Benefits
Reducing the amount of maintenance –

through extended relubrication intervals –
through good thermal stability