Klüber Unimoly C 220 Spray
---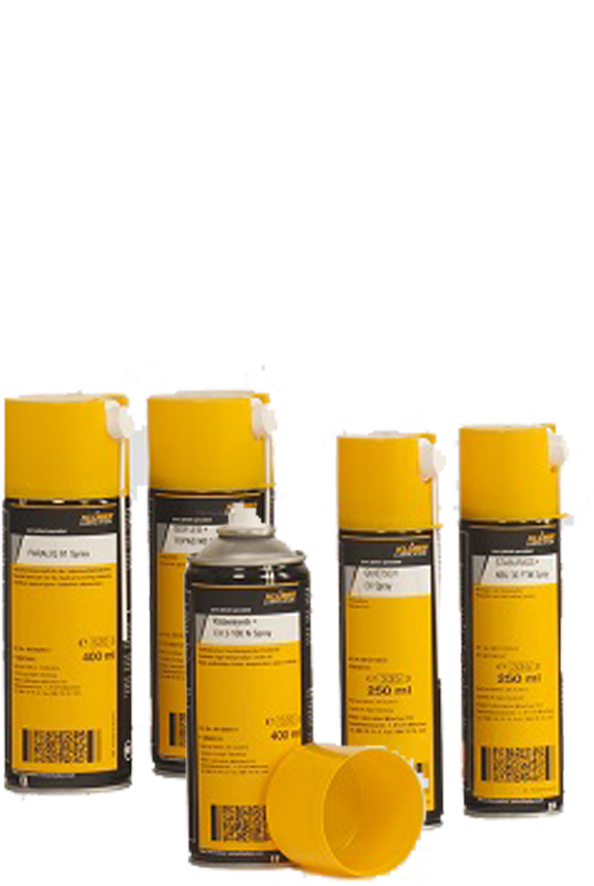 Description
UNIMOLY C 220 is a hygrosetting grey bonded coating with an MoS2 base (molybdenum disulfide) and an inorganic binding agent. UNIMOLY C 220 is a fluid, ready-to-use product containing a mixture of flammable solvents. Once applied and hardened, the bonded coating is very resistant to pressure and has a wide temperature range. Owing to its structure, UNIMOLY C 220 is particularly suitable for high-vacuum applications. Adhesion is very good on special steel, metal and electroplated surfaces.
Application
UNIMOLY C 220 reduces friction and wear in metal/metal sliding contacts. It prevents nuts and bolts from seizing, and ensures a uniform tightening moment and low friction. UNIMOLY C 220 is also used as a running-in agent, e.g. for gears. Other fields of application are clinch bolts, hinge and lock components, slideways, spindles and other slowly sliding components subject to high loads. Components operating
under very high or low temperatures and not subject to humidity are imparted an especially long service life. As a spray UNIMOLY C 220 is particularly suitable as an assembly aid and for maintenance and repair purposes.
Application notes
Stir or shake well before use. This also applies to the spray version. UNIMOLY C 220 can be applied by immersion, spraying or by brush. Other types of application are indicated upon request. The surfaces to be coated must be cleaned/ degreased and be completely free from oil, grease, water, corrosion and scale. When applying UNIMOLY C 220 by spraying, use a lacquer spray gun.
Other application conditions:
Feed pressure: 2 bar
Spraying distance: approx. 20 cm
Nozzle diameter: 0.8 mm
Ensure that only pressurized air is used which is free from oil and water. In the case of spraying by hand, it is recommended to apply the
product in a zig-zag pattern. When spraying systems are used, an agitator should be installed in the container to prevent the solid particles from settling. When applying the product by immersion, use containers which are resistant to solvents. In addition, make sure that the
immersion bath is not exposed to an increased degree of humidity. Therefore, if you have an open bath system, only use a small amount of UNIMOLY C 220. The recommended film thickness for tribological loads is between 4 and 10 μm. For cleaning the spray gun and, if required, diluting UNIMOLY C 220, the SOLUTIN C 9 diluting and cleaning agent can be used. UNIMOLY C 220 is ready to handle after approx. 5 min at 20°C. The hardening process is completed after 30 min. at 20 °C.
Benefits 
Hygrosetting at room temperature
Suitable for high pressures
Resistant to low and high temperatures
Suitable for vacuum applications
Excellent adhesion on metals
Suitable for materials susceptible to cold welding, e.g. special steel nuts and bolts
Well-proven as an assembly aid
Improves the running-in process
Prevents stick-slip