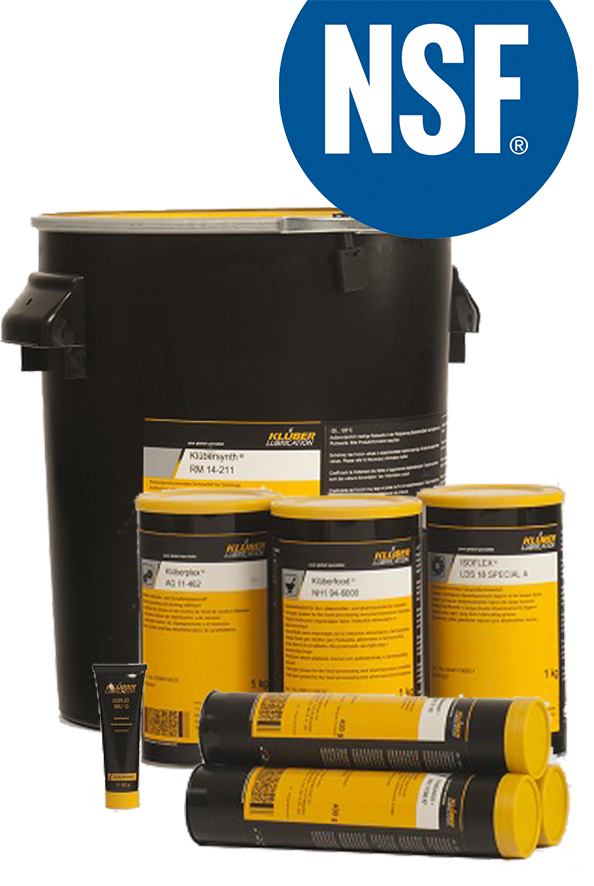 Description
Extensions and sliding rails in automatic or other baking ovens are expected to function without jamming or generating noise over many years of use. Operating conditions are extremely taxing for the lubricant with exposure to temperatures up to 300 °C, aggressive cleaning agents, greases and steam over many years. To reduce, or even prevent extensive relubrication, the lubricant has to work throughout the equipment lifetime. To make sure the food product is not compromised physiologically and its taste remains unaffected, the lubricant used must not release any substances which might provoke such effects. Klüberalfa lubricants are highly advanced speciality products based on selected raw materials and production techniques. They are custom-made for specific requirements in for-life applications. Klüberalfa HPX 93-1202 is a lubricant meeting all requirements of these applications to the full. Our expertise in the development of high-temperature lubricants is based on several decades of experience gained in collaboration with international manufacturers of household appliances. We manufacture the PFPE base oils of this lubricant ourselves and therefore know their properties in detail. Consequently, we are in a position to develop products specifically for the needs of our customers. Klüberalfa HPX 93-1202 is based on unique highly viscous oils with an exceptionally low evaporation rate. Due to the low evaporation rate, the grease remains at the friction point for a long time, providing effective lubrication, and its PTFE-free thickener further adds to the lubricant's performance capabilities. Relubrication is no longer required in most cases. Klüberalfa HPX 93-1202 is thermally stable up to 300 °C, making it the preferred choice for use in baking ovens. Klüberalfa HPX 93-1202 is the first non-PTFE high-temperature grease of its type to be registered as NSF-H1 and therefore to comply with FDA 21 CFR § 178.3570. It was developed for incidental contact with products and packaging materials in the food-processing, cosmetics, pharmaceutical or animal feed industries. The use of Klüberalfa HPX 93-1202 can contribute to increased reliability of your production processes. Nevertheless it is recommended to conduct an additional risk analysis, e.g. HACCP.
Application
Klüberalfa HPX 93-1202 is a fully synthetic high-temperature grease for use in industrial and household baking ovens as well as automatic baking ovens. It improves the functional capabilities of sliding rails, hinges, locking systems, joints and other elements at low speed and very high temperatures. This enables you as an operator to benefit from long-term lubrication in combination with good damping even at extremely high temperatures. Klüberalfa HPX 93-1202 is generally regarded as resistant to most chemicals and solvents. The lubricant is therefore not expected to be negatively affected by cleaning agents.
Application notes
For optimum lubrication results, we recommend cleaning the friction points with white spirit 180/210 followed by Klüberalfa XZ 3-1 before using Klüberalfa HPX 93-1202 for the first time. Then blow the surfaces with clean, dry compressed air or hot air to remove white spirit residues. For initial lubrication, the friction points must be clean and bright, i.e. free from oil, grease, perspiration and contamination. To optimise the service life of your equipment or if you have any other questions regarding your application, our experts will be pleased to help you.
Benefits
Lifetime lubrication enabled by high thermal stability up to 300 °C
Low noise and smooth running due to excellent damping behaviour
Reduced relubrication due to good resistance to cleaning agents
NSF H1 registered and ISO 21469 certified - supports compliance with the hygienic requirements in your production plant