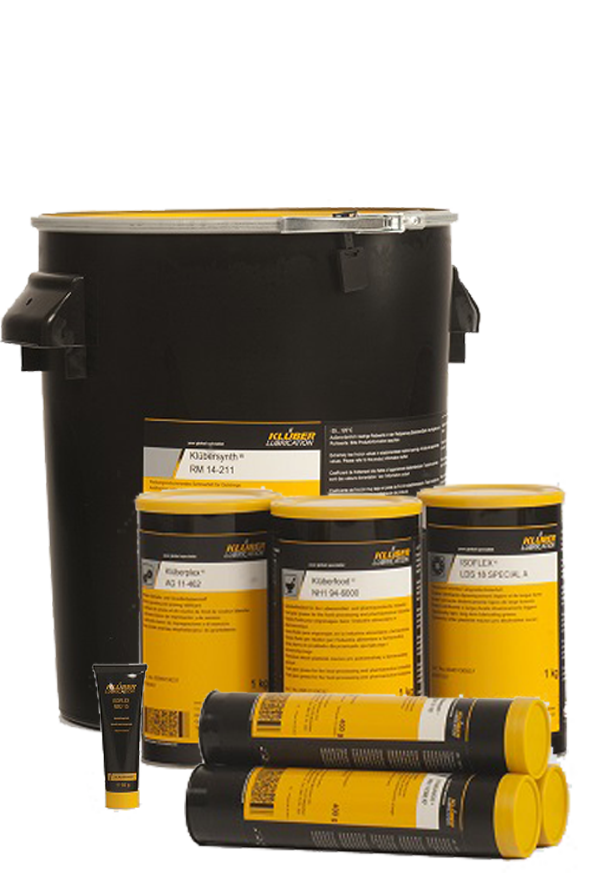 Description
Would you like to increase the service life of your highly-loaded rolling bearings running at low speed? Do you need a lubricant for a wide service temperature range? Klüberlub BE 41-1501 is designed to meet the requirements of rolling bearings subject to extreme conditions. The appropriate combination of base oil and additives enables improved wear protection. FAG FE 8 tests have confirmed the effectiveness of Klüberlub BE 41-1501 under these conditions. If the lubricating film becomes adversely stressed under extreme conditions, e.g. during high levels of oscillation and friction, the solid lubricants MoS2 and graphite contained in Klüberlub BE 41-1501 ensure excellent emergency lubricating properties providing additional reliability in the event of starved lubrication. The product also provides good corrosion protection
and is compatible with seals, e.g. made of NBR elastomers. Klüberlub BE 41-1501 is approved by leading component OEMs, e.g. Flender and David Brown. Please do not hesitate to contact our experts regarding the demands in your own application.
Application
Klüberlub BE 41-1501 was developed for highly-loaded large rolling bearings running at low speeds as well as toothed gear systems such as industrial and rail traction gear couplings. Typical applications and requirements include: spherical roller bearings in roller presses, bowl mill crushers and rotary crushers in the mining and base materials industries. The operating conditions of roller bearings require use of a heavy-duty grease with high base oil viscosity with suitability for the following conditions:
 low speed, n = 10-30 rpm 
 high load, P/C = 0.25 - 0.50
 bearing temperature approx. 50-70 °C
 shock loading and vibration
Owing to its excellent lubricating properties, Klüberlub BE 41-1501 can also be used successfully for the lubrication of pivoting bearings, plain bearings and industrial gear couplings.
Application notes
When using Klüberlub BE 41-1501 with automatic grease pumps, the ambient temperature should be ≥ 15 °C
Benefits
Excellent wear protection under the highest dynamic load conditions
Good load-carrying capacity at low rotational speeds
Reliable lubricant film formation at high service temperatures
Emergency lubricating properties due to the addition of special solid lubricants